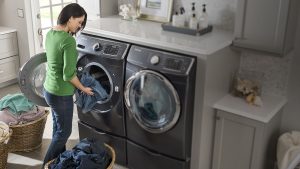 Uhh Ohh! Is it that time again? Got an appliance that's acting up? Does your 20-year-old dryer produce large plumes of smoke occasionally? Has the time come to upgrade that miserable eyesore you call a dishwasher! You're probably considering a new Samsung appliance with a sleek more modern look. Well before you buy, take some advice from your Friendly Neighborhood Appliance Technician. Don't Do It!!!
Being a General Appliance Technician I service all things household appliance. From Korean models to Canadian built machines, it doesn't matter, I do them all. In my experience I seem to repair Samsung appliances every single day. Now, is this the result of poor product performance or simply a symptom of the sheer volume of Samsung branded products on the market? Samsung appliances are popular given their sleek designs, unique color options and other additional features. Due to their popularity Samsung appliances tend to enjoy favorable reviews. As an in-home technician, the Samsung reviews I receive from my customers runs contrary to the generally bright and sunny reviews presented by big box stores. In my opinion, Samsung and Samsung built appliances tend to breakdown faster and require more extensive; thus, costly repairs than some of their competitors.
Does Samsung Beta Test appliances in home? They would never admit as much, I think. I assume as I think we all do that all household appliances are tested for all applicable safety and performance standards before you have a chance to buy them. During my time as an Authorized Samsung Service Provider, Samsung suffered many Product Recalls. Now, product recalls are not necessarily a bad thing, or unique thing to Samsung. There are multiple product recalls in most product lines every year. In appliances I think making mistakes and corrections is part of innovation and even the most reliable manufacturers will have a few product recalls on file. The troubling thing about many Samsung recalls is the nature of the mistakes made. I fielded recalls for anything from problematic components that fail after only a couple uses to electronic control boards installed with the wrong software.
There where machines built backwards, machines built incompletely and of course some machines were built with too many extra parts! We had clothes dryer belt pulleys breaking after just two years of use and these pulleys have been modified and upgraded several times. To Samsung' credit the latest ideation of the part seems to be holding up well as It seems call-backs on Samsung pulley repairs have decreased.
Samsung appliance designs are nice and sleek, but the parts used are cheap and the initial workmanship is often poor. This can make repairing a Samsung appliance a little more difficult than other brands. The difficulty comes at the risk of committing cosmetic damage to the unit during the repair.  Warranty customers especially frown on you for leaving scratches on their new "Black Stainless Steel" whatever. Samsung likes to use concepts like plastic tension tabs where other manufactures might stick with the good old Philips number 2 screw, because of this Samsung repairs require a bit of finesse.
I don't think I've ever met a tech who recommends Samsung appliances and most technicians highly recommend against them! I don't repair televisions so when I see T.V. techs in the field and ask: Who's the best? They all say Samsung makes the best television. One day I had a customer, an older electronics engineer with a broken Maytag (my favorite brand) washer and dryer. We talked about Samsung television performance as I conducted the successful repairs. I shared my little conspiracy theory of Samsung beta testing appliances in the market. He found the thought interesting for his experience with Samsung brand T.V.'s, specifically that Samsung made a really terrible television in the beginning. The early model Samsung television did not perform to expectations, were problematic and subject to many recalls. After about five years Samsung had become one of the more top performing, highest rated, and best reviewed television by consumers and technicians alike.
Personally, I don't recommend Samsung.  In my opinion Samsung appliances are well designed but poorly manufactured. I think they make a lot of lemons! I recommend Maytag and Whirlpool as better alternatives. It's important to do your own research of course. Is that Samsung, or any brand machine, currently under any active safety recalls? What is the average life span of an oven anyway? Just google 'Average Life Expectancy for an Appliance'. Samsung machines tend to die on the low end of all spectrums. How are the customer reviews? Ask your friends and your neighbors about their appliances before you buy. A customer told me recently she went to a big box store to buy appliances and she was interested in some Samsung models. The salesmen steered her away from the Samsung models citing many returns and refunds. Word gets around eventually.
Appliances can be significant household investments so before you junk that old unit, you'll want to consult an experienced repair professional. The typical in-home appliance diagnostic fee is between $100-$150. I suggest a visit to Tinlizzee.com instead. Tinlizzee.com saves customers money with guided diagnostics conducted by experienced appliance repair technicians. For only $19.99 we can accurately diagnose your appliance problem using our Virtually There camera sharing technology and identify all applicable parts for your machines repair. Helping you make an informed decision concerning the repair or replacement of the appliance!